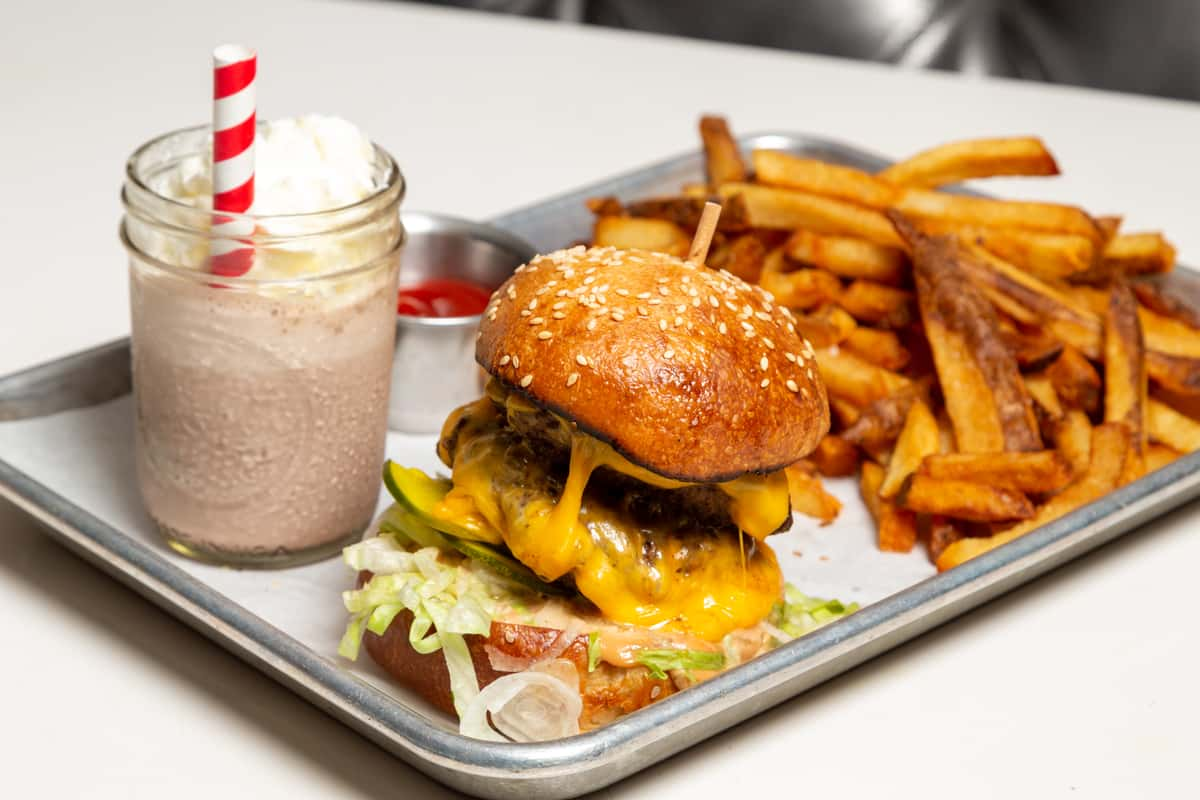 The Perfect Cheese burger
The Perfect Cheese burger
District Table and Bar in Stuart, Florida offers the best cheeseburgers in town. Made with hand-shaped patties and American cheese for the perfect melt, our cheeseburgers are topped with house-made pickles, lettuce, and shaved onion, and served on a house-made Japanese milk bun.But that's not all - we also offer an upgrade option for our fries, with the option of Truffle fries for a special touch. And every cheeseburger comes with a complimentary chocolate shake, making it a truly unique and delicious experience.But don't just take our word for it - check out what our customers have to say:
"Holy COW, literally!! This cow was so good, it must have been blessed! The temperature was perfect, the flavor was perfect and the bun was perfect! The fries were just the right amount of crispiness and the chocolate malt is such a good addition/treat! It make the eating this burger an 'experience!'"
"If you are expecting a typical 'burger and fries,' you are in for a surprising treat! The District Burger certainly isn't your average burger. It is a thick, juicy, moist burger, covered in melty, creamy cheese, served on a delicious Japanese milk bread bun. The lettuce, onion and pickle give it a fresh crunch, and the secret sauce definitely takes it over the top! The frites are crispy and golden on the outside, and soft and yummy on the inside, but my favorite part of this meal was the chocolate malt. Don't let the size deceive you; this little gem is absolutely divine! It's sweet, creamy, deliciousness is just the right size to provide the perfect addition to this iconic American meal. Be sure to enjoy the awesome atmosphere and live music at the District Table and Bar, as well!"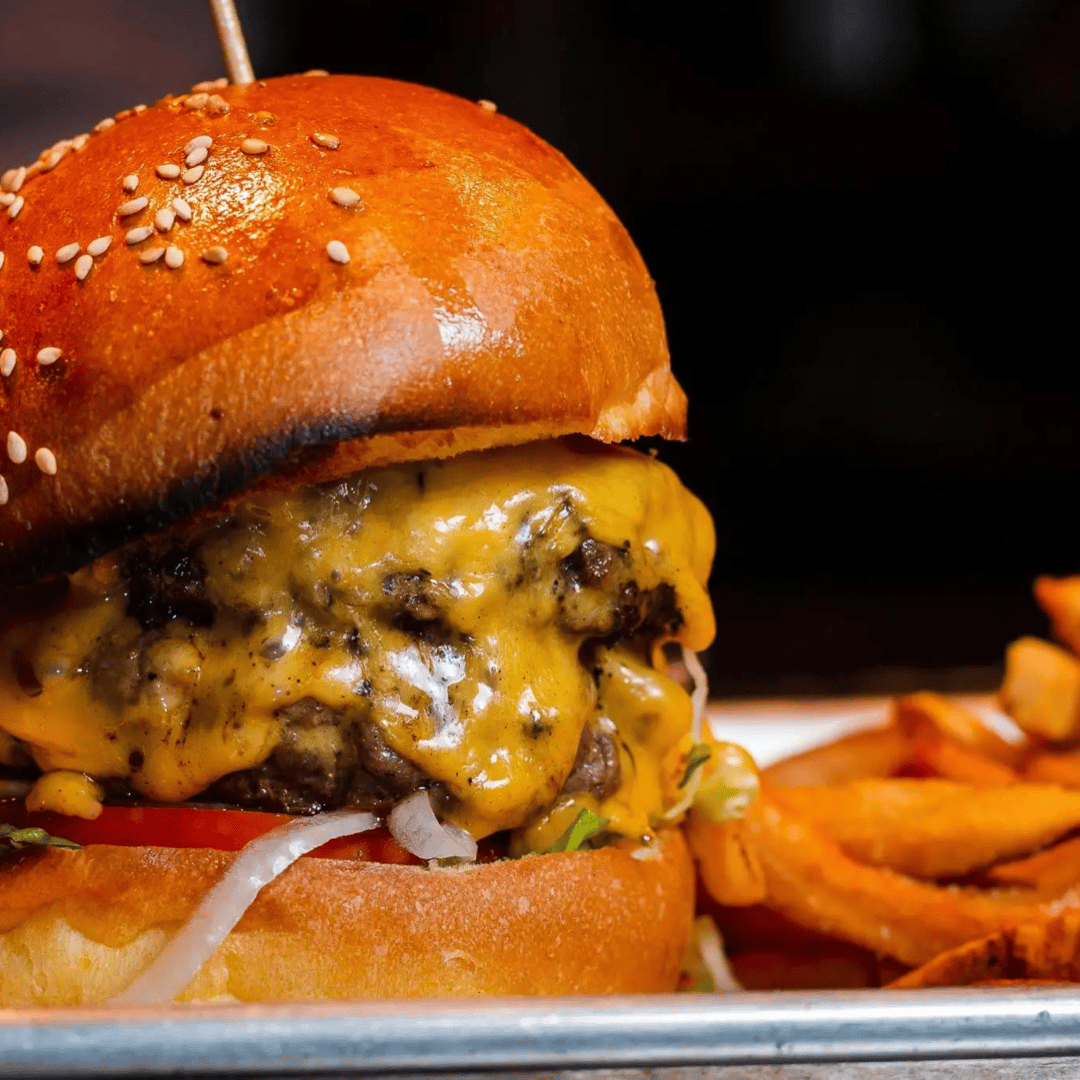 So what are you waiting for? Come visit us at District Table and Bar and taste the best cheeseburgers in Stuart, Florida for yourself! And don't forget to upgrade to Truffle fries and enjoy a complimentary chocolate shake with your meal. And while you're here, enjoy the awesome atmosphere and live music.
If you can't make it in for our five star cheeseburger, here's a few tips for grilling your own at home.
There's nothing quite like a juicy cheeseburger hot off the grill. But how do you make the perfect cheeseburger? From the type of meat to the cheese and toppings, there are a few key things to keep in mind to make sure your burgers come out delicious every time.
First, let's talk about the meat. A good quality ground beef is essential for a delicious cheeseburger. Look for ground beef that is at least 80% lean and 20% fat. This will give you the right balance of flavor and juiciness. Also, you can try a blend of meats like beef, pork, and lamb to add more flavor.Next, it's time to shape the patties. When forming the patties, make sure they are not too thick or too thin. A patty that is too thick will take longer to cook and may end up being unevenly cooked, while a patty that is too thin will dry out quickly. Aim for patties that are about 1/2 inch thick. And also, make a small indentation in the center of each patty to prevent puffing during cooking.Now it's time to add the cheese. American cheese is a classic choice, but you can also experiment with other types of cheese like cheddar, Swiss, or blue cheese. Make sure the cheese is at room temperature for the best melt.When it comes to toppings, the possibilities are endless. Lettuce, tomato, onion, and pickles are all classic choices. Some people prefer to add bacon, avocado, or even a fried egg to their burger. But don't overdo it, as too many toppings can make it hard to eat and mask the taste of the meat.Finally, the most important step of all: cooking the burgers. Preheat your grill to high heat and oil the grates to prevent sticking. Grill the burgers for about 3-4 minutes per side for a medium-rare burger, or longer if you prefer it more well-done. And don't forget to toast the buns for a crispy texture.And there you have it - the perfect cheeseburger! Remember, the key to a delicious cheeseburger is using quality ingredients and paying attention to the details, from the meat to the toppings. Happy grilling!